THE VALUE OF LOCAL HOME SHOW'S
THE VALUE OF LOCAL HOME SHOW'S
Choosing a contractor to work with begins months in advance for many homeowners, long before introduction at a local home show.
The high season for home improvement projects is in full swing – and homeowners are ready to turn their remodeling dreams into reality. Many companies connect with homeowners for future projects through home shows.
Consumers have become so educated in how they make a decision that they feel they've perfected the art of finding someone to do the service for them. Homeowners have used home shows as a means to find trusted, certified contractors.
Here we will review the value of being a homeowner who attends local home shows and the importance of being a vendor at local home shows.
Grow your home improvement business by exhibiting at home shows
Over the years, the home improvement and home building market has steadily grown, creating even more job opportunities prime for the taking. A great way to enhance your sales platform to get out in front of the community and obtain new prospects is being present at your local home show.
When you exhibit as a home improvement vendor, you create an opportunity to have face-to-face meetings with customers. Vendors obtain the ability to show homeowners their quality of work and how their work can boost the value of their homes and quality of life.
The fine detail homeowners discover by attending local home shows
As the housing market continues to grow, homeowners are not entering home shows with the mindset of just browsing. Instead, they have concrete ideas of what projects they want to accomplish and which businesses they want to scout.
Exhibitions at home shows have gotten bigger each year. Advertising campaigns are commonly found at local home shows. Homeowners have the opportunity to enter into raffles or drawings, which could qualify them for discounts or free offers of service.
Most importantly, vendors will display certificates of credibility such as being recommended by Angie's List and The Better Business Bureau. Along with association awards like 'Best of Northwest Arkansas' by CitiScapes Magazine and 'The Best of The Best' by The Northwest Arkansas Democrat-Gazette. Awards offer homeowners assurance that you are a reputable business, and they can trust you to work on their home.
What you can expect at the Foster Roofing booth
Foster Roofing is a proud vendor at the Northwest Arkansas Home & Outdoor Living Expo and Northwest Arkansas Home Builder's Association Home Show. The Foster Roofing booth is loaded with accreditation, awards, credentials, roofing material, and FREE ESTIMATE submissions.
Foster Roofing is recommended by the Better Business Bureau and Angie's List. The booth at both home shows will include a full display of our credentials, which include the following necessary documentation:
Homeowner's guide to roof replacement
Steps to understanding the claim process
Certificate of insurance
NRCA membership
Referrals from local vendors and customers
Better Business Bureau's press release 'Beware of Storm Chasers'
State of Arkansas license.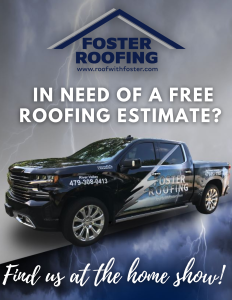 Stop by the Foster Roofing booth to shake the hands of your local-owned and reputable roofing experts. The Foster Roofing team of experts will be excited to get you signed up for a FREE ESTIMATE.
Please stop by the Northwest Arkansas home shows coming up very soon if you seek roofing service!
   (Home & Outdoor Living Expo)
  Date: April 1st – April 3rd, 2022
Address: 3303 S. Pinnacle Parkway Rogers, AR
Website: nwahomeexpo.com
(NWA Home Builder's Association Home Show)
Date: April 29th – May 1st, 2022
Address: 1420 S. 48th Street Springdale, AR
Website: nwahomeshow.com
If you are looking for a roofing expert who is determined to provide top-notch customer service, contact Foster Roofing – for a FREE ESTIMATE.
3357 Wagon Wheel Road
Springdale, AR 72762
(479) 751-2300