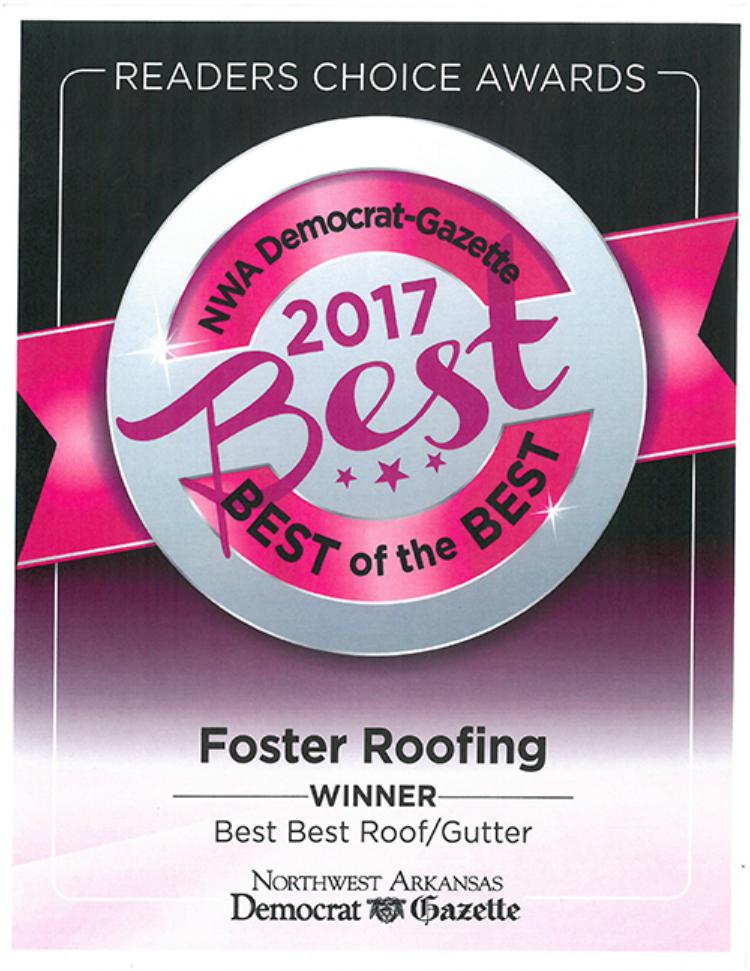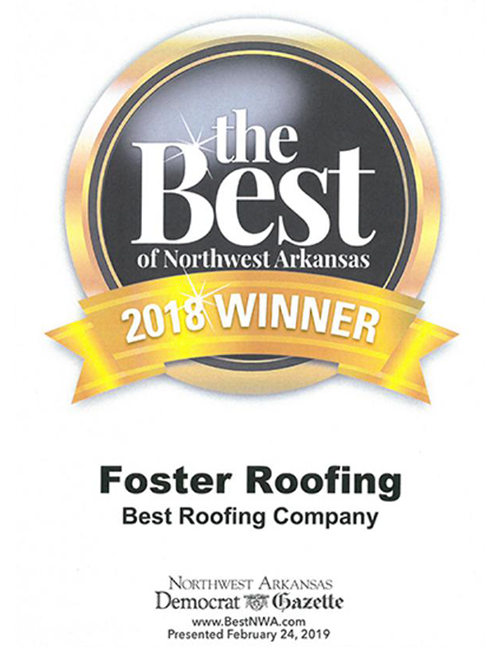 Foster Roofing:
30 Years Strong
Testimonials
"There's a reason why Foster Roofing has been voted the best so many times: They simply are . . . the BEST! Their office took care of all the details, including a carload of samples for us to examine, dealing with our insurance company, scheduling the work, being sure all of the materials needed were onsite, right down to paint for the plumbing vents to match the shingles, new flashing and copper for the chimney and so much more. Their roofing crew was dedicated, skilled, and punctual, even in 95-degree Arkansas summer heat. They had a skilled electrician to hook up our new power vents and a gutter crew who installed gutters and downspouts to perfection. I have zero concerns about our new roof. If you truly want the best roof for your home, go with Foster Roofing! They're the BEST!"

"After a few storms, enough damage occurred to justify a new roof and gutter system. Since I am retired, I have enough time on my hands to adequately research multiple roofing companies. Having spent over twenty years in manufacturing as a Certified Purchasing Manager, I understand the value of conducting a thorough, fair, and unbiased bid process. After interviewing representatives from five highly reputable companies, Foster Roofing was the obvious choice, and boy did they deliver. Representative Roy Biswell, his support staff, and the installation crew were professional, knowledgeable, courteous, and highly skilled. Being a real stickler for detail, I can honestly say Foster Roofing's workmanship is of the highest quality and their clean-up is impeccable. Foster Roofing said what they were going to do and did what they said they would do. In my opinion, Foster Roofing is as good as it gets."

"Our experience was exceptional, and I am very pleased about the work. From the gentleman that came out to give us a quote to the working crew, and the gentleman that came out for the final inspection. If I had not been at the house when they came and started and had come home in the afternoon, I would not have known anyone had even been there except seeing the new roof and a stack of shingles were missing in the area the yard you cannot tell anything had been touched, I would highly recommend Foster Roofing to anyone and everyone. We appreciate the great job they all did. Thank you so much."

"I had a great experience with Foster Roofing. RD and Kevin were readily available to answer all my questions and were very professional and personable. They are very knowledgeable not just about roofing but about the whole process and explaining it clearly. The work was exceptional and they roofed my house and two shops in one day. I really like how well they clean up and have someone inspect the work to make sure I'm satisfied with it before paying them. I'd definitely recommend Foster Roofing."

"Foster Roofing did a fast fabulous job! My roof was hit recently with major hail damage and I picked Foster Roofing to replace it and I sure made the best decision. Again very happy with Foster Roofing."

"Very friendly, fast, and efficient! Foster Roofing did a great job, replaced my roof, and cleaned everything up when done. Cheaper than the other companies that we got bids from. The new roof looks great!"

"I was very pleased with Foster Roofing! I spoke with Cole and he was able to come out and give me an estimate later that same day. As soon as we decided to move forward with the project, he had it completed within a couple of days. He was very informative and explained exactly what the problem was (with pictures as well) and how he would fix it. I would definitely recommend Foster Roofing in the future!"

"Foster Roofing did an excellent job replacing my roof after a storm damaged my old roof. Their professionalism and attention to detail are exceptional, and I was grateful for the communication and helpfulness they provided throughout the process. I'd highly recommend Foster Roofing for your residential roofing needs."

"We have used Foster Roofing for two repairs on our roof. Hayden answered all my many questions efficiently and was very knowledgeable. Landon and the men who did the repair were so great working with my schedule to ensure everything worked for me. The men working were efficient and kept the work area clean and answered the questions I had for them too. Will absolutely use Foster Roofing for any roofing needs."

"Foster Roofing is a great local company with professional staff and quality work with extremely competitive pricing. The crew was also great. Very good cleanup and took precautions not to damage, landscape air conditioner units, or getting debris in the pool."

"Foster Roofing guided and helped me work through and understand the insurance process as this was my first claim. Once insurance was sorted out Foster Roofing office and then the field team that completed the work communicated great through the entire process and sent picture updates. This team worked quickly, cleaned up, and respected my property and family. Highly recommend this team!"

"I was extremely impressed and pleased with the craftsmanship of Foster Roofing!! Everyone was very kind to me during a very stressful time. The job was done quickly, and neatly!! I could not believe how beautiful my roof looked afterward!! Even our neighbors were impressed. Hayden Harvey was my representative, and he was so helpful!!! The price was great!! Thank you Foster Roofing for a great job!"

"I highly recommend Foster Roofing. They came at the appointed time. The roofing crew was very efficient and put down tarps to catch debris and nails. During the process, someone from the office called to see if I had any questions or comments during the roofing. After the roof was complete Curtis came out to check on the roof and clean up. They are one of the best companies I have used."